Walta Focq estimates that he can buy 202 packs of Marlboro cigarettes, half menthol and half regular, for roughly $1,435. That is, if he can get them wholesale at $71 a box.
On December 6, Walta wants to give away the cigarette packs to the homeless as small Christmas presents. He's considering wearing a Santa Claus outfit, but he hasn't made up his mind yet.
It might be too gauche, too cheeky, into something.
Walta Focq is a street artist specializing in political commentary. If you've seen a fake concert poster featuring Vladimir Putin and Donald Trump's Farewell Freedom Tour, then you've seen Walta Focq's work.
In 2021, he plastered portraits of the Louisiana State Police brutally beating Ronald Greene at Blue Bike rental booths to commemorate the man's death.
what's in a name
Walta Focq is not his real name. It is a pseudonym reminiscent of a vulgar expression used to express confusion and/or outrage. Sometimes he signs his work WTF. Heaven knows he will not allow his picture to be taken. Anonymity, he says, is a strategy. That way, "I can be what people want me to be."
Walta is an ordinary looking white guy wearing a retro Zephyrs baseball cap. He promises that he has no dark past. When asked for a biographical background, he said he was a veteran of the Falklands War, where a small but crucial limb was shot down.
The Falklands War was fought between Argentina and Great Britain in 1982. Walta speaks with neither a British nor an Argentinian accent.
If Walta gives out cigarettes on December 6th as planned, it won't be the first time. Three or four years ago, he said, he regularly displayed his art on the fence of St. Louis Cathedral in Pirates Alley. His handmade political posters sold for $20 to $40.
To attract attention, he put up a sign that read, "All proceeds were used to buy burgers and cigarettes for the people living under the overpass." The pledge was a perfect match for his socially conscious artwork.
And he pulled through.
Cigarettes: a gift, not a necessity
Burgers and cigarettes in hand, Walta would wander the homeless encampments under the Pontchartrain Expressway near St. Charles Avenue offering freebies. Immediately, Walta said, he learned that cigarettes were more welcome than burgers. Cigarettes, he said, "are a gift, not a necessity, like a husband giving his wife the fancy sunglasses she wanted instead of the exercise bike he thinks she needs."
Cigarettes are also a kind of currency. Even if you don't smoke, you can exchange cigarettes for other things.
Everyone in the tents and cardboard pens seemed grateful. Though some people, he said, were disappointed that he wasn't offering menthols. Lesson learned.
Walta ran cigarette giveaways two or three more times. At one point he took his teenage son, who was mortified by the whole experience.
His son said to him: "Dad, we can't do that," Walta recalls.
Fast forward to the summer of 2022. During the COVID pandemic, Pepp's Pub on Franklin Avenue constructed an outdoor wooden bar area in the parking lots along the street in front of the house. Such outdoor seating enclosures are called parklets.
Walta, a Pepp regular, suggested wrapping the parklet in paintings, and owner Sam Wurth — a street art fan — gave it the green light.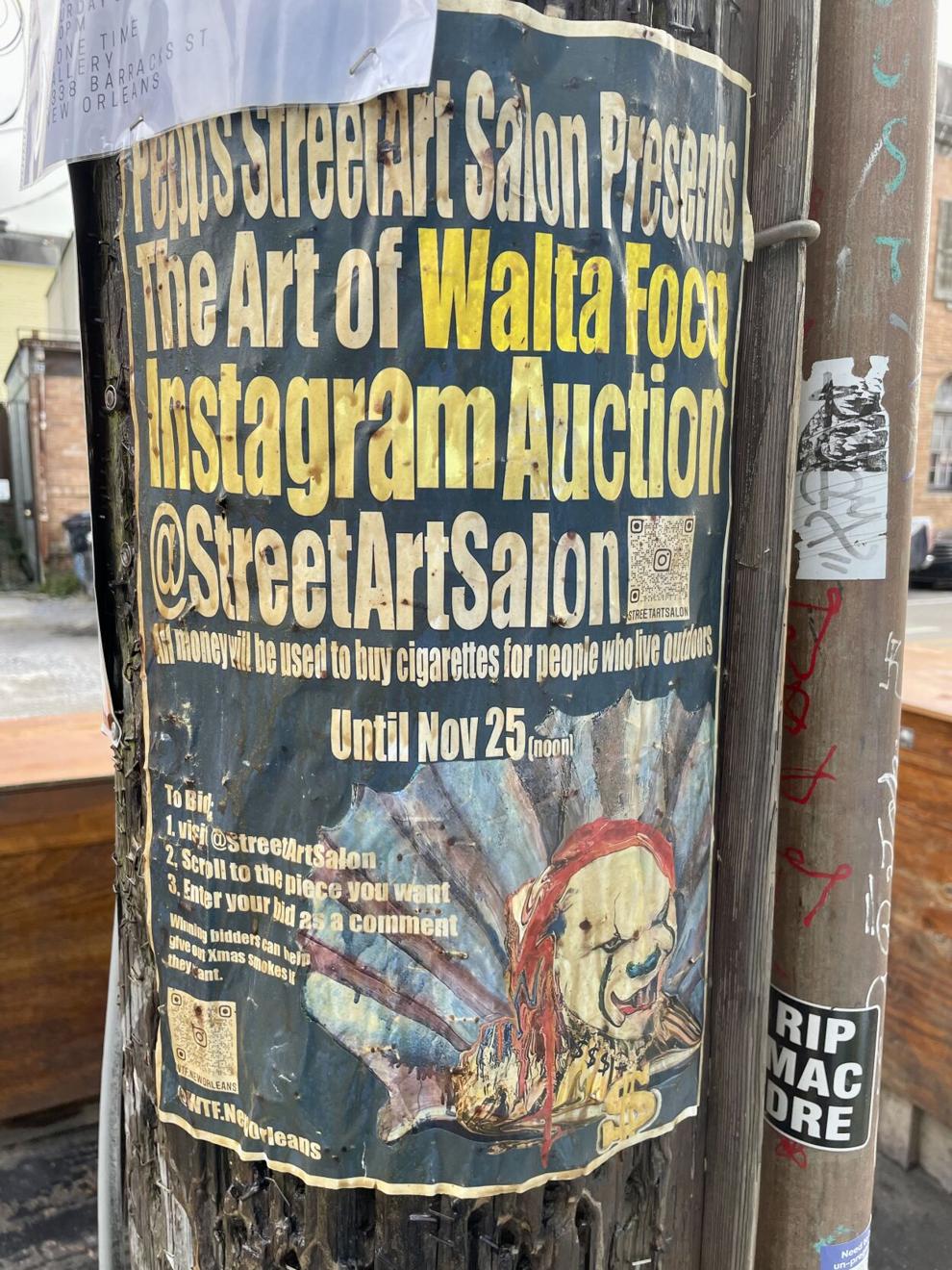 A conversation starter
Walta produced 10 woodcuts that comment on the state of the nation from his rather cynical point of view. In one play, Fox News star Sean Hannity emerges from a woman's torso like the ferocious creature in the Alien movie.
In another, the Virgin Mary's thighs are inked with large Coca-Cola tattoos. Abraham Lincoln is a boxer who wears a blue glove that says CNN and a red one that says Fox. Botticelli's Venus is joined by Heath Ledger as the grinning joker. Cheerful old St. Nick takes a selfie with the unborn baby Jesus. Etc.
As the holidays approached, Walta and Wurth decided to sell the art through a digital auction and donate the profits to charity. Walta suggested another cigarette distribution, and Wurth said he loved the concept.
"What do people ask you most often on the street?" Wurth asked rhetorically. "Cigarettes."
They're more than a gift, Wurth said, they're a "conversation starter."
Wurth said giving away cigarettes is an "honest and transparent" form of generosity.
On November 25, when the art auction ended, all 10 of Walta's paintings had been sold. Walta raked in more than $1,400.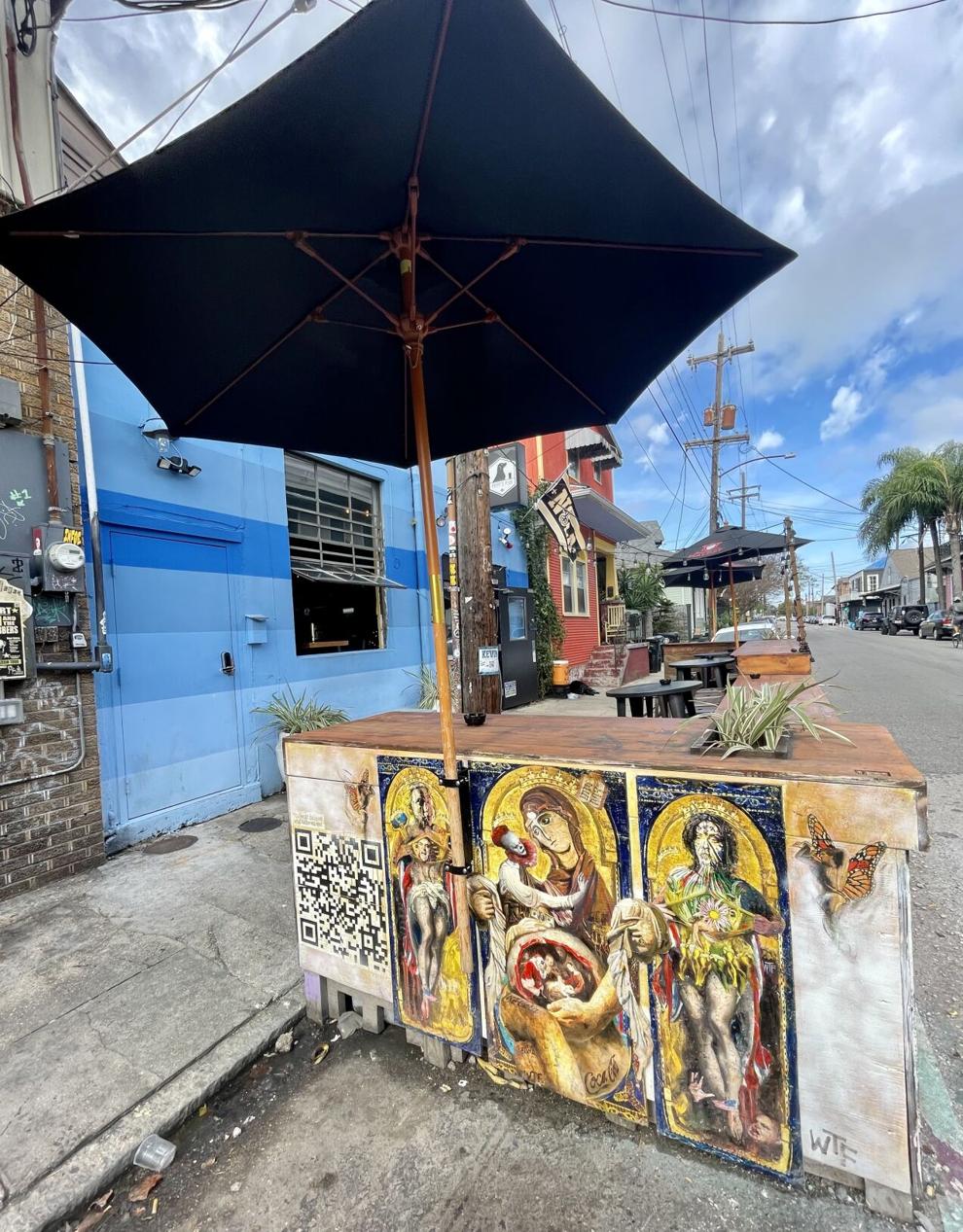 A lanky man with lung cancer
On Tuesday, Walta sat at a coffee table outside of Flora's coffee shop, not far from Pepp's bar, to talk about his upcoming cigarette giveaway.
Halfway through the interview, a tall, lanky man named Ryan appeared by the table and asked for directions to the nearest grocery store.
He explained that he and his wife – who was in a wheelchair across the street – needed medication and, yes, cigarettes. Ironically, Ryan touched his chest and explained that he was being treated for lung cancer.
"You're asking for cigarettes from the right person," Walta said, pulling a $10 bill out of his pocket and handing it to Ryan.
Sure, Walta understands that cigarette addiction is a curse and that his chosen form of charity may not be as health conscious as it could be.
But according to Walta, "It's a sign of respect to say, 'If you want to smoke, smoke.'"
Walta is a do-gooder who doesn't do anything particularly good. That's how he wants it. He says that "a bit of an experiment is going on".
"Sometimes," he said, "when people give gifts, it's about making the giver feel good."
In his case there is a touch of ambivalence.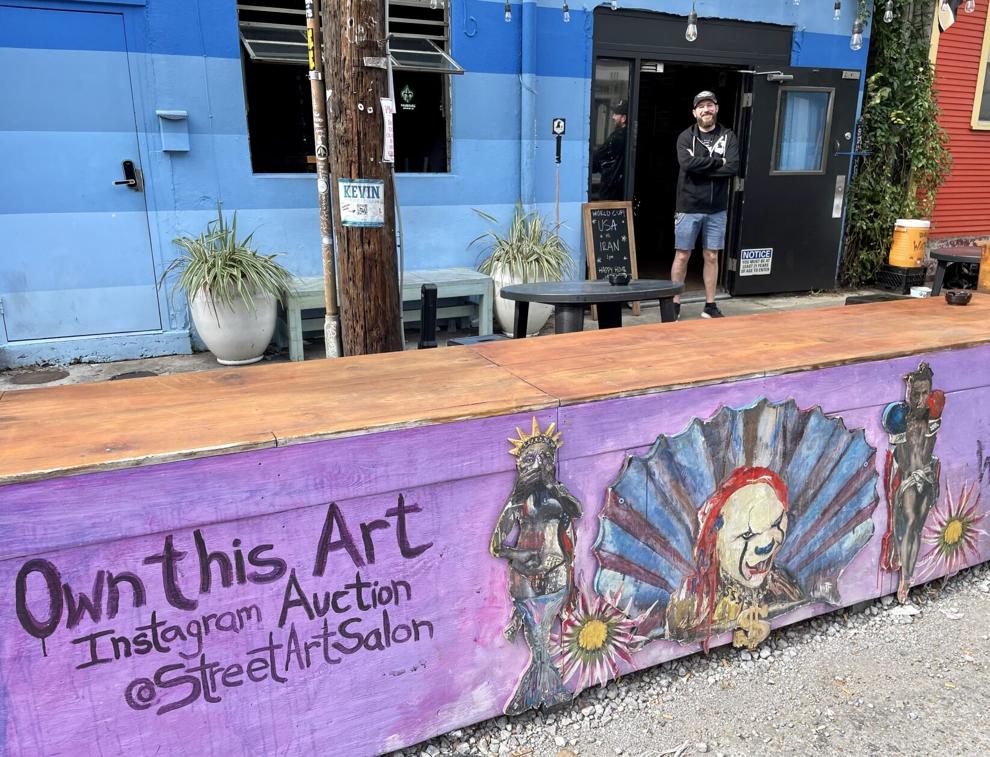 Simple motive?
John Thornton, a home renovator, bought one of Walta's paintings from the Pepp show. He said the cigarette gift wasn't his reason for buying it, but he agrees.
"I think he comes from a very simple motive," Thornton said. "There are few comforts in the rugged life they (the homeless) lead on the streets. The guilty pleasure of smoking does more for the heart and soul."
Thornton says he feels the cigarette giveaway feels like a "conceptual and somewhat transgressive" achievement. He congratulates Walta on starting a painting exhibition and "wrapping it into a rolling art wave".
When asked what he thought of Walta's gift of cigarettes, Domonick Hayes said he understood. Hayes is the peer support specialist and front office manager at the Ozanam Inn homeless shelter.
"I'm not going to lie," Hayes said. "I'm kind of biased. I am a cigarette smoker. As a smoker, I think it's good."
But, he said, he realizes that some of his colleagues would probably think Walta should provide groceries, shoes and other necessities people need to get through the day before offering tobacco.
Hayes also said he understood Walta's claim that something unnecessary like cigarettes felt more like a gift than food or clothing. "The homeless are used to getting food and toiletries and things they need, but not necessarily things they want."
.