"All her furniture was there, the Calder headboard, her dining table and those fabulous Pollocks and pictures that she personally collected, all presented in this bespoke setting. I took that memory away and [kept it] for many years," says Lyon. "Here was a very personal museum where you learned about the collector, the artists and most importantly the connection between the two."
Within 10 years, Lyon had begun his own collection of contemporary Australian art, guided by respected Melbourne gallery owner and friend Georges Mora, who advised him to look for artists with a distinct voice, take time to get to know them and their work, and never collect for investments and – perhaps most importantly – never invest historically, collect for now, collect your contemporaries and collect deeply.
It was wise advice. Today, the Lyons own one of the country's most comprehensive collections of influential contemporary artists, 350 works by 60 artists including Patricia Piccinini, Howard Arkley, Callum Morton, Brook Andrew and Shaun Gladwell.
And the collection grows; Over the past 12 months, new works have been purchased by the Ken Sister Collaborative, Jonny Niesche and 2022 National Photographic Portrait Prize winner, Wayne Quilliam, many of which have been cleverly displayed in the two bespoke galleries.
In the 1990s, however, the conundrum was where to put it all. It was 1993 when Lyon fell in love and married Shanghai-born former computer analyst and programmer Yueji, who expressed great surprise when she first visited his small apartment in South Yarra, crammed with large contemporary works of art.
Yueji soon proved to be an equally passionate and discerning collector, and although the couple moved into a house in Bulleen and exhibited the art between that house and the eponymous Melbourne architecture firm that Lyon founded with his two brothers, there simply wasn't room for them Art and her young family.
"I started thinking about designing a building that would do two things: accommodate our growing family—our girls were four and six—and our growing art collection; and most importantly, be able to share it with the public. There are many private collections that never see the light of day; this was about sharing. It was a pretty bold idea and a lot of our friends thought we were crazy," laughs Lyon.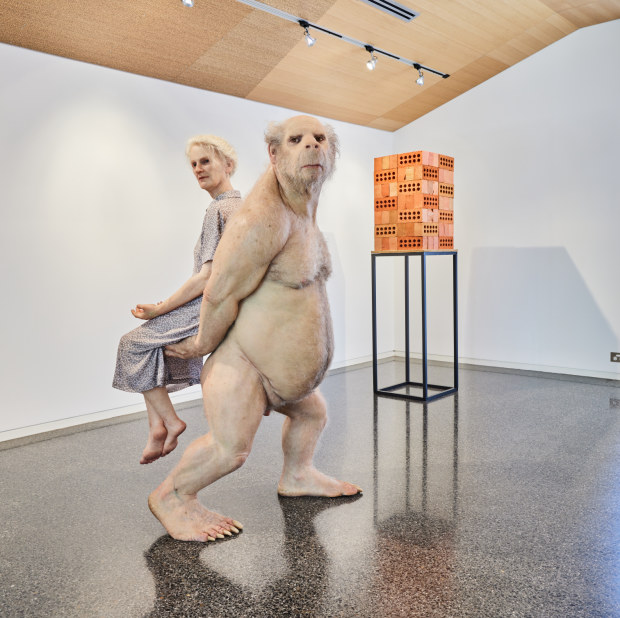 The Lyon Housemuseum opened its doors in 2009, a sprawling, stylish hybrid home that doubles as a public art museum that Lyon emphasizes is a world first. (Like Peggy Guggenheim, 18th-century New York architect and art collector John Soames and 19th-century New York industrialist Henry Frick had lived in their homes before adapting them as galleries.)
In fact, Lyon coined the expression "House Museum". While the house contains two small self-contained areas not open to the public, most of the rooms double as living and public spaces, including the kitchen (a café) and Lyon's study (an archive for visiting scholars).
Today, the couple have personally toured their home and growing collection for more than 20,000 tourists; art and architecture students; directors of the Peggy Guggenheim Museum, the Tate; Designer and presenter Kevin McCloud and even James Bond in the form of passionate painter Pierce Brosnan.
It was fellow collector Marc Besen who, during a tour of the Lyon Housemuseum in 2009, suggested that Lyon should expand his holdings. Besen and his wife Eva have collected what is arguably the most comprehensive collection of modernist Australian painters, including Sidney Nolan, Albert Tucker and Fred Williams, and has presented it to the public in their gallery, the TarraWarra Museum of Art, since 2002.
"Marc looked through the side window and said, 'If this property is ever for sale, you have to buy it,'" says Lyon. "Yueji blanched at the thought." As luck would have it, an auction sign was put up on the block a week later, and the couple snapped up what was essentially just the property's value; Lyon transformed the derelict house and tennis court into a large public museum with flexible exhibition space that complements the existing apartment. The Public Housemuseum Galleries opened in 2019.
"Put very simply, the idea was that these two buildings should be designed like siblings sitting next to each other on the street. If you stand and look at the front, they have a very similar profile, except the new building is slightly larger and clad in bluestone [the Housemuseum's exterior is zinc]giving it the feel of a permanent public building." A modest admission fee and a portion of the ticket price for events, artist talks and workshops offset the running costs of both galleries.
As for the publicly shared private life, it was an interesting experience. "Initially, the girls, and to an extent Yueji, were being challenged by people walking through the house," Lyon admits. However, Yueji was enthusiastic about the idea, leading the tours, events and exhibitions, and personally guiding the weekday tours. Lyon makes the weekends.
"We both enjoy seeing people engaging with the art in the strange rooms of the house museum, so in that sense it has been very rewarding and we've developed very good working relationships with the artists. I think both of our girls would say it was great growing up in the Housemuseum and interacting with all the incredible visitors."
A legacy project
Stimulated by his visits to the Peggy Guggenheim Collection in Venice and the Sir John Soane's Museum in London, Lyon established a foundation in 2012 that will definitively own and manage the collection and the buildings that house it, for the public, on a permanent basis .
"I loved that these collectors had the foresight to gift and preserve their collections in this unique setting. . . this idea of ​​sharing it with the public forever," says Lyon. "It's a nice legacy project for Yueji and I, but I don't think so [it's about that]it's about seeing how much joy people get from being able to continue visiting these galleries."
After seeking advice from Besen, Lyon established the foundation and its six-member board, consisting of three independent directors and three family members, including Jaqlin, with two other independent appointments pending. The interest from the corpus will continue to finance museum operations even after the change of ownership.
During the creation of the foundation, Lyon requested a change of plan that would ultimately change the use of the house-museum from a private residence to a public museum. "Once we've donated the house museum, we can't live there anymore… so we're moving out," he says. The connected building will reopen to the public in the second half of the year and will be known simply as the Lyon Housemuseum.
A few summers ago, the Lyonses visited Mount Martha, the seaside town where Lyon and his three brothers regularly holidayed from their Brighton home when they were young. "It was a wonderful place to relax, and I said to Yueji, 'How about we build a house here?' and – I don't think any of us would ever use the word 'retire', architects never retire – but we thought we could move down there.
"It was a beautiful day and [there was a] Land for sale with a beautiful view and a really nice connection to our childhood summers. So we bought the property."
In a beautiful continuation of the legacy of these four generations of architects, Lyon has designed the new house together with Carlin. "It was a fabulous, fabulous experience," he says. The couple are moving next month and a small new apartment in Melbourne will provide accommodation in the city.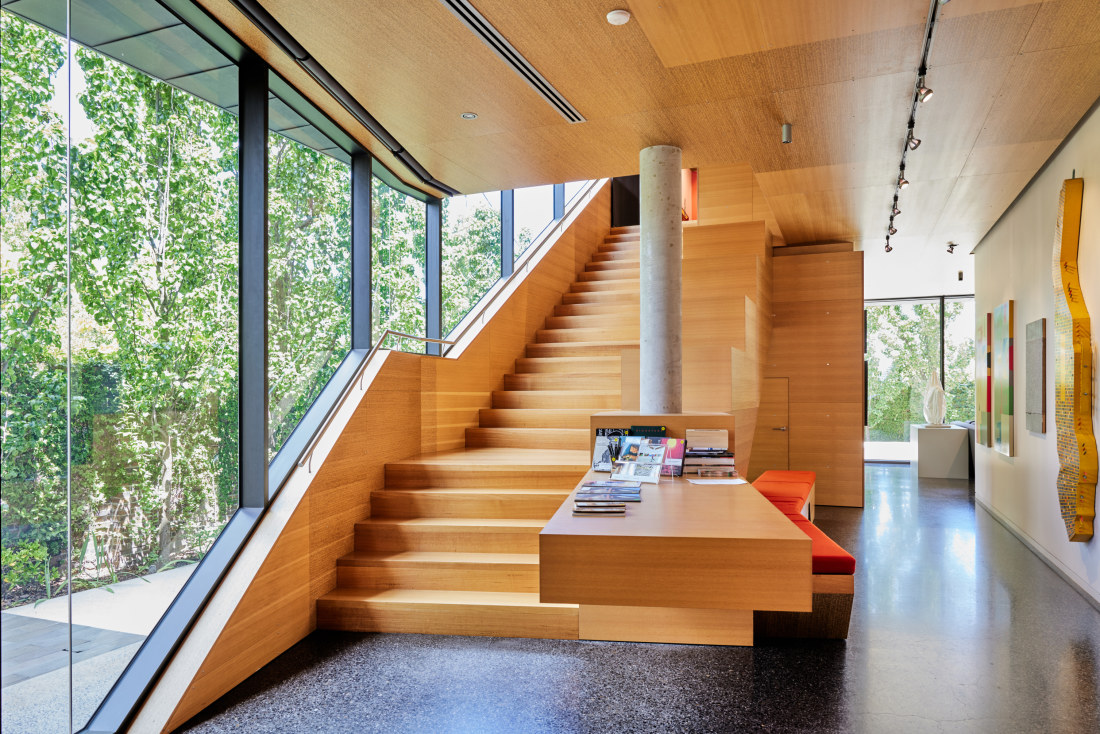 In terms of the carefully and lovingly curated art collection, the plan insists on leaving the vast majority to the foundation, possibly keeping just a piece or two and putting their collecting years behind them.
"Many collectors are late and stop collecting," he says. "Our feeling is that in the next few years we will round out the collection. 35 years is a very long time and it has been a wonderful partnership between the two of us, a life project."
After living in and amidst such an extensive body of personal work, surely closing the door on the Housemuseum and its precious art will be a wrench? "The thing that Yueji and I talk about endlessly is that the house museum is still there and the public museum is still there. Every time we want to get to know our friends again – and these works are friends, [Piccinini's] truck babies have been sitting in our living room for 12 years, they're part of the family – we can always come back and visit them, so that's good and good enough," says Lyon.
When it comes to what they will reveal to the public, Lyon is modest. "We always felt like we were the custodians of the artworks for the artists.
"We are not [feel like we're] We've taken care of some money, we've been really privileged to have kept them for the time that we have, and we are now very keen that they go into a public ownership situation where they are used by others can become people, hopefully for a very long time to come."
The February issue of AFR Magazine – the Art Edition – appears in The Australian Financial Review on Friday 27 January. Keep following AFR Mag Twitter and Instagram.